The Rise of Modern Japan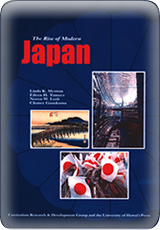 The CRDG social studies section completed research and development of The Rise of Modern Japan, a high-school text jointly published with the University of Hawai'i Press. The book traces key aspects of Japan's history and culture from 1600 to the present. The activity-centered text is replete with maps, timelines, archival photos, literary excerpts, firstperson accounts, songs, poems, charts, graphs, and political cartoons that give students a feel for the culture and events of the intervening centuries. The book received the 2003 Franklin Buchanan Prize from the Association for Asian Studies. The Rise of Modern Japan follows a companion volume on China, and anticipates a planned book on the history and culture of East Asia. Hawai'i, Asia, and the Pacific
"The Rise of Modern Japan is an outstanding contribution to the study of Japan and to the field of Asian studies at the secondary level and serves as a brilliant example of how university and K–12 educators can work together to further the field of Asian studies."
-Association for Asian Studies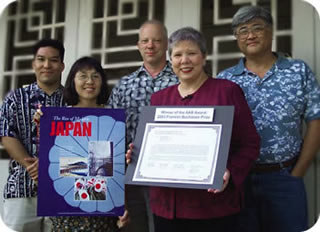 HIGHLIGHTS
The Rise of Modern Japan, a high-school text with a teacher manual and music CD, won the Buchanan Prize from the Association for Asian Studies.
Island Fire, published both as a high school text and trade book for general distribution, won the Ka Palapala Po'okela award for Excellence in Literature from the Hawai'i Book Publishers Association.
Cross Currents, a binational, bilingual, interactive digital web resource in English and Japanese, continues to foster extended dialogue and information exchange among students and teachers from both countries.