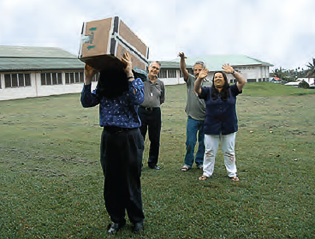 CRDG has worked with a number of partners over the past three years to increase science proficiency of middle school students on Hawai'i island. Through a series of No Child Left Behind grants from the U.S. Department of Education, CRDG and the Hawai'i District of the Hawai'i Department of Education, along with a variety of partners from the community, worked with science teachers in the Ka'u, Kea'au, and Pāhoa Complex Area and other invited charter, public, and private schools in the Hilo area.
The first project, STARnet: Casting a Broader Net Through Teaching and Technology, targeted eighth grade earth and space science. STARnet partners included University of Hawai'i at Hilo, the 'Imiloa Astronomy Center, and Phi Delta Kappa International Education Association. Participants were provided with computer technology STARcarts enabling them to enrich their teaching and to share data among classes.
A second project, Life Scene Investigations: Using the "Sleuth Approach" to Assess Learning (LSI), focused on seventh grade and life science. LSI partners included the Friends of Pana'ewa Zoo and Science FUNdamentals.
Begun in 2008, Meeting Science Standards Through Inquiry: A Complex Ed-venture (MSSTI) completed the middle school project set with sixth grade and physical science. Teachers from the same schools were encouraged to attend all three courses as a team. New MSSTI partners were Hawai'i Electric Light Company (HELCO), Aloha Interactive, Business Services Hawai'i, and the Pacific Tsunami Museum.
In each class teachers engaged in the inquiry-based activities that were designed for them to do with their students, then followed these with discussions of implementation and instructional strategies. The activities addressed the HCPS III standards and benchmarks for the targeted grade level. Most of the activities were drawn from CRDG's FAST and DASH programs. The final assessment for students at each grade level was an exciting field experience in a community-based, informal education venue. The eighth grade STARnet teachers took their students to the 'Imiloa Astronomy Center; LSI seventh grade classes explored the Pana'ewa Zoo, and sixth grade MSSTI students visited the recycling operation at Business Services Hawai'i and the Pacific Tsunami Museum. An extensive teacher evaluation guide was designed for each project's assessment experience.
Project evaluations thus far have been overwhelmingly positive.