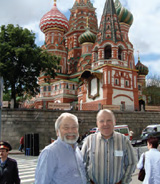 In 1993, education leaders in the Russian Academy of Sciences began a collaboration with CRDG to reform science education by translating CRDG's Foundational Approaches in Science Teaching (FAST) program into Russian. CRDG provided training for pilot teachers and teacher trainers, and teacher support in implementing FAST. They also helped build the evaluation program with guidance on collecting data on the impact of FAST with teachers and students, and student data exchange. Donald Young and Mary Gray provided the initial professional development institutes in Moscow and Ryazan. The fully developed project (known in Russia as The World Around Us) won approval of the Russian Ministry of Education for use in Russia's schools. Today schools in Moscow, Voronezh, Ryazan, Barnaul, and Krasnoyarsk use The World Around Us.
More recently (2005), the National Training Foundation commissioned the development of twenty-eight reform programs in multiple subject areas. Under the direction of Dr. Alexander Uvarov and Dr. Elena Afrina, and with the support of CRDG and Dr. Isak Froumin of the World Bank, a team of authors developed two new science courses for grades five and six (now called Science 56 in Russia) based on the FAST model. As the development phase was ending in the fall of 2007, Donald Young, now the director of CRDG, was invited to Moscow to consult on designing the national dissemination and implementation of Science 56. The collaborative work resulted in a book on dissemination and implementation of education programs published in June 2008.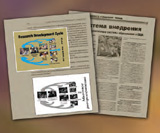 Another result of the December 2007 design workshop was the organizing and funding by the National Training Foundation of a conference for the authors of all twenty-eight reform programs to discuss issues related to dissemination and implementation. Young was invited to keynote the conference held June 9–11, 2008 in Moscow. The book on dissemination and implementation was used as a key reference for the conference. The National Training foundation has subsequently required the twenty-eight program developers to submit dissemination/ implementation plans. The collaboration continues with Young providing consultation services electronically.