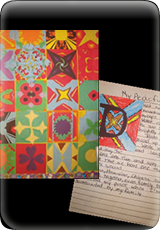 Faculty from CRDG's Program Research and Evaluation (PRE) and Art Sections have teamed with the Hawai'i Alliance for Arts Education to conduct a U.S. Department of Education funded project that uses strategies from the visual and performing arts to teach reading, writing, and mathematics. Six windward schools are participating in the project, three randomly assigned as experimental sites and three randomly assigned as control sites. The project provides extensive professional development for teachers in how to use arts strategies in teaching basic skills and brings artists into the classroom to work directly with teachers. 2005 is the second year of the three-year project. Paul Brandon and Brian Lawton from the Program Research and Evaluation Section designed the research study and prepared data-collection instruments.
"Hawa'i Alliance for Arts Education could not be more delighted with the opportunity to work with CRDG. We find the researchers of top quality. In fact, the CRDG research design was key to our success in receiving a grant from the U.S. DOE."
They collected, analyzed, and reported evaluation results in both of the first two years of the study and will continue these tasks in the third year. Val Krohn- Ching, from CRDG's Art Section, is documenting the training and working with project developers to prepare methods for using the visual arts to enhance student learning. The final results of the project will be reported not only to the Hawai'i Alliance for Arts Education but also to evaluators and researchers nationwide in conference presentations and articles.
Participating Schools
He'eia Elementary
Ka'a'awa Elementary
Kahuku Elementary
Keolu Elementary
Lā'ie Elementary
Ben Parker Elementary