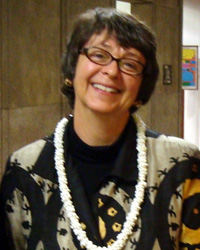 College of Education Curriculum Research & Development Group (CRDG) Associate Director, Kathleen Berg, was appointed as Hawai'i's first Compact Commissioner by the Hawai'i State Board of Education. The appointment is a response to the Hawai'i State Legislature's Interstate Compact on Educational Opportunity for Military Children, enacted in June 2009.
Having served as the first female Brigadier General in the Hawai'i Air National Guard from 2005 until her retirement in 2009, Berg will oversee the compact between Hawai'i and other member states as well as continue her civilian tenure in curriculum development, research, evaluation, teaching, and administration at CRDG. Her current research focuses on transition issues affecting military-dependent students in Hawai'i public schools.
"Kathy Berg's accomplishments speak for themselves both in her military career and in education," CRDG Director Don Young said. "She is an outstanding College of Education graduate, and we are so fortunate to have her leadership in CRDG."
Berg's impressive and highly recognized military career began in 1977 with the Hawai'i Air National Guard. Her numerous accomplishments and awards include the Legion of Merit, the Meritorious Service Medal, the Air Force Commendation Medal with one Oak Leaf Cluster, and the Air Force Achievement Medal. She also served as the Commander of the 293rd Combat Communications Squadron and the Chief of Staff for the Headquarters Hawai'i Air National Guard. Most recently, she was elected as the Vice Chair of the national level Military Interstate Children's Compact Commission.
"Having been a military dependent myself, as well as a military officer and a professional educator with UH for over 35 years, I bring multiple perspectives and experience to the position of Compact Commissioner, and I hope to foster a spirit of collaboration and flexibility so that our schools work with military families to do what's best for children," Berg said.
The State Council, consisting of the superintendent of education, four complex area superintendents, DOE military liaison, six military representatives, two chairpersons of the senate and house education committees, and a representative of the executive branch of government, serves as an advisory group to Commissioner Berg.