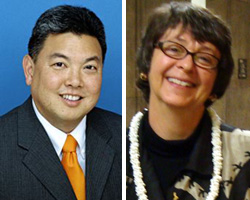 By K. Mark Takai and Kathleen F. Berg
Jun 07, 2010 | Star Advertiser
It is no secret that many military families coming from beyond our shores arrive with negative perceptions of Hawaii public schools. With recent high-profile national news coverage of Furlough Fridays, this can hardly be a surprise. But, in truth, it has been an enduring perception for some time.
This is despite clear evidence that both kamaaina and military students tend to do well when working side-by-side in our schools. For example, a recent examination of 2008-2009 test data from 56 "military-impacted" schools in Hawaii showed that their students overwhelmingly tended to score at the national average or better.
But negative perceptions persist.
The Joint Venture Education Forum (JVEF) is a partnership involving the military, public schools, businesses, Legislature and others with the goal of facilitating communication and action about schooling in Hawaii. As two JVEF members, we are very aware that schooling ranks at the top of military quality-of-life issues, especially in Hawaii.
Many do not realize how much the military presence affects our schools and, in turn, is affected by our schools. Nearly 15,000 military dependent students attend Hawaii public schools. Military dependents make up more than 90 percent of students in five schools, more than 50 percent in 11 schools, and more than 20 percent in 10 others.
When former Hawaii Superintendent Paul LeMahieu and Adm. Dennis Blair, then the commander of U.S. Pacific Command, initiated the JVEF in 1999, the situation at the time called for the military and school community to create better working relationships.
The effort came to the attention of U.S. Sen. Daniel Inouye, who understood the frustrations on both sides. In 2000, the senator supported the incipient organization with $5 million in federal dollars through U.S. Defense Appropriations legislation "to bring some additional funds to the table and to encourage a venue where issues could be brought and resolved together."
Over the last decade, JVEF has become an exemplar of partnerships that focuses efforts for maximum benefit, helping military-impacted schools with textbooks, computers, playgrounds and repair and maintenance projects.
With JVEF assistance and guidance, schools have developed transition programs to help incoming students, offered staff development courses to help teachers and counselors understand the unique stresses and culture of military families, and instituted citizenship programs that enhance student behavior, respect and understanding of differences.
But perhaps the most significant impact of the JVEF is the volunteer efforts through 158 partnerships throughout the state.
Military personnel and their spouses can be seen regularly tutoring in classrooms, painting buildings, coordinating fitness programs, beautifying school grounds, and serving as PTSA and School Community Council officers, chaperones and in other capacities.
On Kauai, the Pacific Missile Range Facility coordinates a rocketry program to support math and science skill building. On Hawaii Island, the Pohakuloa Training Area, with an active-duty staff that often numbers fewer than a dozen, partners with schools many miles away.
Gail Awakuni, 2005 U.S. National Principal of the Year, has said: "The honor I received is directly attributable to the cooperation and work of many people on the Campbell High School staff and in the community here. That includes our three military partners who have brought both fiscal and human resources and expertise that have been invaluable to the school, the staff and the students."
Implicit in Awakuni's words is the fact that the assistance to Hawaii's schools that serve military dependent students benefits all students.
Many of JVEF's initiatives have only just begun, and new initiatives are being developed each year. Significant future achievements will clearly add to those already accomplished and continue to benefit all keiki living and learning in Hawaii.