Strength in Collaboration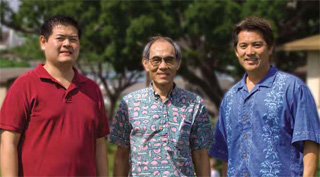 Morris Lai, Hugh Dunn, and Mark Yap received first place in the School Evaluation and Program Development Outstanding Publications Competition at the 2007 American Educational Research Association (AERA) meeting in Chicago for their DVD, A Mo'olelo Evaluation of Pihana Nā Mamo.
"One way this evaluation differs from most evaluations is that it integrates considerations of culture and program effectiveness," Yap said. The team chose a storytelling approach as it is more culturally appropriate than a written evaluation report. "Pihana Nā Mamo uses traditional Hawaiian culture to enhance the education of today's Native Hawaiian children who are among the most at risk in areas such as education, crime, teen pregnancy, and health," Lai said.
Aside from technical quality, category standards included innovativeness in presentation and clarity for the intended audience. "The video of the evaluation does not go against the grain of what evaluators look for in a more traditional written report," Dunn said. "We wove quantitative data in with qualitative data throughout, keeping our audience in mind."