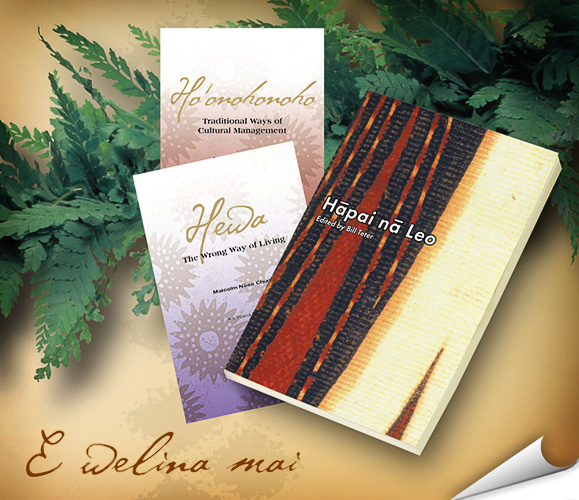 EVENT:
Join us in celebrating the unveiling of Hapai na Leo and the completion of the Ka Wana series.
LOCATION:
CRDG, 1776 University Avenue, Honolulu, HI 96822
DATE:
Friday, December 4, 2009TIME: 5:00-7:00 PM
RSVP:
By invitation only, please contact 956-4969 or crdg@hawaii.edu by November 20, 2009
---
From the powerful opening words of the Kumulipo to the propulsive rhymes of contemporary slam poetry, Hāpai nā Leo celebrates a diverse range of voices that explore, carry, and regenerate Hawaiian culture. Hāpai nā Leo is a literary companion to Malcolm Nāea Chun's historical and philosophical works, the Ka Wana series, published by the Curriculum Research & Development Group, and No Nā Mamo, published by the University of Hawai'i Press. This anthology responds to Chun's work with a wide range of voices and perspectives far-ranging in style, form, and generation. They address broad, yet specific, topics: sovereignty and power; economic and social relationships; identity and spirituality. While these perspectives represent particular stories and places, they remind us that people everywhere define themselves in ways large and small, public and private, individual and communal. Includes questions for discussion and writing.
Hāpai nā Leo and the free downloadable teacher's guide for classroom use
Item # KW201, 2010, soft, ISBN 978-1-58351-088-9
---
» Online Catalog
» PDF Brochure
» PDF Teacher's Guide
---
AUTHORS


N. Keonaona Aea
Keith Kalani Akana
Mary Beth Aldosa
Kimo Armitage
Joseph P. Balaz
Keola Beamer
Kahi Brooks
Puanani Burgess
Adam Campbell
Lee Cataluna
Eric Chock
Caroline Curtis
Marjorie Edel
Dana Naone Hall
Richard Hamasaki
John Dominis Holt
John Noah P. Ho'omanawanui
ku'ualoha meyer ho'omanawanui
Holo Ho'opai
Hina Kahanu
George Kahumoku, Jr.
Imaikalani Kalahele
Olga Kalei Kalama
Lisa Linn Kanae
Lino Kaona
Matthew Kaopio
Danielle Kaiulani Kauihou
Kealoha
Kekuewa Kikiloi
Larry Kauanoe Lindsey Kimura
Jeanne Kawelolani Kinney
Temujene Hanae Makua
Makia Malo
Manu Aluli Meyer
Jamaica Osorio
Jonathan Kamakawiwo'ole Osorio
Leialoha Apo Perkins
Mary Kawena Pukui
Marjorie Sinclair
Rene Sylva
Sage U'ilani Takehiro
Haunani-Kay Trask
Jasmine Tua
D. Ululani Uchima
Bryan Hiroshi Wake
Ittai Wong
---
Ka Wana Series
The Ka Wana series, part of the Pihana Nā Mamo Native Hawaiian education program, offers new insight into the philosophy and way of life of Native Hawaiian culture. The Ka Wana series consists of eleven short volumes covering a range of subjects including ethics and philosophy, leadership, education, health, management, protocol, and religious beliefs. Author Malcolm Nāea Chun uses traditional and historical examples to show behavior, thoughts, and values, then analyzes events in both traditional and contemporary contexts.