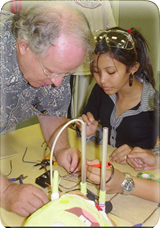 The Archimedes Hawaii Project is dedicated to researching and developing technologies that solve accessibility and communication problems related to disability and aging, especially in education. To actively engage students' interest in science, math, technology and engineering, project staff have piloted the monthly "Archimedes Toy Workshop." In the workshops, teens experience careers in technology while learning electronics and IT skills, and provide a public service by adapting toys for use by children with disabilities.
Archimedes Hawaii has partnered with Technology Applications and Learning for Professional Achievement (TALPA), the Kuali'i Native Hawaiian Science and Engineering Learning Communities at the University of Hawai'i at Mānoa, and the UH Mānoa College of Engineering, Women in Technology, isisHawaii, and Hawai'i middle and high schools. In addition to the workshops, staff mentor promising engineering students of Hawaiian ancestry to create accessible learning technology through hands-on design projects. An initiative to research and develop technologies for seniors has been expanded to include a working community group and further development of the core (IDEAL- Intent Driven Environment for Active Living) technology.
Archimedes Hawaii hosted a National Science Foundation sponsored "Free Standards Group Accessibility Workgroup Meeting," an international group of accessibility experts and core open standards developers, to explore low cost solutions for accessible educational technology.