The Education Laboratory: A Hawai'i New Century Public Charter School, formerly, and still more commonly, known as University Laboratory School (ULS), was created six years ago. In this new guise, ULS continues to provide a controlled environment where CRDG researchers conduct R & D work. The school also continues to serve as a demonstration site for improving education, providing opportunities for prospective teachers and visiting educators to observe a range of inquiry classrooms, while simultaneously providing quality programs for its 417 students. The students, randomly selected from among applicants to represent a broad cross section of the state population, provide data on ways all students can learn and succeed.
In 2007, University Laboratory School introduced these innovations to its operations and curriculum:
The Diverse Learner Needs (DLN) section provides a comprehensive student support system that addresses the diverse needs of all students and ensures that legally required services for students with special needs are met.
CRDG's Second Language section expanded its curriculum development efforts in Spanish, French, and Japanese to the elementary grades.
A team of teachers, researchers, and staff instituted the Holomua School Success Seminar program for ninth graders. Designed to help students succeed in high school—holomua means to move ahead—the program incorporates teacher-advisers, computer literacy, career exploration, subject workshops, and independent study. Program goals include responsibility and accountability.
CRDG's Social Studies section began testing activities from the Modern East Asia curriculum in the tenth- and twelfthgrade social studies classes.
The Measure Up elementary mathematics project reached a milestone when they extended their research to the final year of the program. This year's fifth grade is the first class to have progressed through the full Measure Up program beginning in grade 1 and provides a research opportunity for the Mathematics section to measure the effect of the program on upper level mathematics concepts and performance.
CRDG's Elementary section began work on an age- and developmentally-appropriate physical education program for elementary students.
---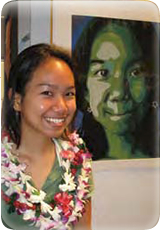 Kenory Khoury, a junior at the Laboratory School, was honored for her self-portrait in June in Washington, DC with the Grand Champion art award in the Kahaki'i First Congressional District Art Show. Kenory represented Hawai'i's first congressional district in the competition that honored one student from each congressional district in the country. The award, which included a one-week stay in Washington for Kenory, her mother, and her drawing and painting instructor, Matt Miller, was presented by the Honorable Neil Abercrombie, First Congressional District Representative, in a ceremony at the U.S. Capitol. Congratulations to Kenory and to Matt Miller and the entire ULS art department.