Contact:
Kymber-Lee Char, (808) 956-9437
Public Information Officer, External Affairs and University Relations
Diane Chang, (808) 956-0391
Director of Communications, Chancellor's Office
Posted: Jun. 27, 2011
HONOLULU – University of Hawai'i at Mānoa Chancellor Virginia S. Hinshaw has bestowed the 2011 Chancellor's Award for Outstanding Service on Hatsuko Kaulukou in Buildings and Grounds Management, Susan Carlson in the Department of History, and Morris Lai in the College of Education.
The annual awards recognize UH Mānoa staff members for outstanding work performance, service and leadership. Criteria include record of competence and efficiency, exceptional contribution toward the attainment of program objectives, finding creative solutions to difficult problems, and demonstrated integrity and dedication to the mission of a program.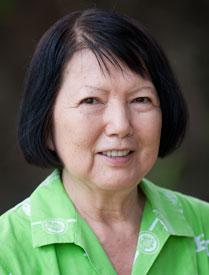 Kaulukou has served as a janitor in Buildings and Grounds Management for over 17 years. Described as an "angel from Heaven," the UH Mānoa 'ohana admires her constant smile and positive attitude, as well as exemplary work ethic. Doing what is necessary to get the job done without complaint, her approaches to dealing with building challenges are often emulated by admiring colleagues. She adheres to a top standard of performance, resulting in spotless classrooms and restrooms, shiny water fountains and immaculate highly trafficked areas. Kaulukou's dedication to exceptional service goes beyond covering her own assignments, as she fills in whenever and wherever needed. The pride that she takes in her appearance and workplace is evident, in details ranging from pressing her uniform daily to beautifying the women's restrooms with fresh flowers. She donates her unused vacation annually to others, reflecting the genuine care she has for those she works with and aloha that she exudes for the campus.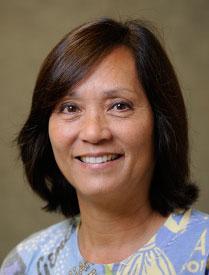 Carlson has served as a graduate secretary for the Department of History for over three years. Due to staffing limitations, she has been instrumental in leading the provision of services for this large department and its faculty, which was previously serviced by multiple individuals. In fact, she has embraced the new and additional responsibilities with a caliber of such excellence and grace that the department and graduate chairs often respond to departmental inquiries with the familiar three-word comment, "Let's ask Sue." Her dedication to students, a seemingly endless supply of patience, and respectful approach to any and all concerns are admirable. Carlson's nominators note that, while she would not appreciate being the center of attention, she warrants public acknowledgement for everything she does to support students, faculty, administrators and other staffers within the department and the university at large.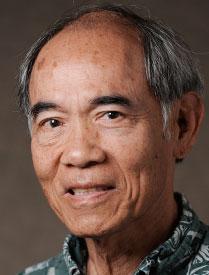 Lai currently heads the Curriculum Evaluation Office in the College of Education's Curriculum Research and Development Group and has served UH Mānoa for almost 37 years. Those who work with him in the state Department of Education describe him as the "face" of UH Mānoa, where he has been an advisor, teacher, panelist, reviewer and confidante through his research and evaluations. Lai has made numerous contributions toward developing new culturally appropriate evaluation criteria, methods and techniques, and has been a member of numerous committees and organizations focusing on the Native Hawaiian language, culture and community. A repeat winner of prestigious national awards, he is also internationally recognized for his work while generating over $26 million in extramural contracts and grants. His infamous "Laiberry" began with a personal donation of books, which has since expanded to over 4,000 titles on Hawai'i and Hawaiian education.
Kaulukou, Carlson and Lai will be recognized for their achievements along with other UH award recipients at the annual Convocation ceremony to be held at 10 a.m. on Tuesday, September 27, 2011, on the UH Mānoa campus. The ceremony is open to the public at no charge, and no reservations are needed.