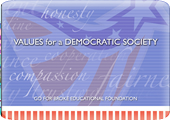 Pat Alvarez of the Social Studies Section teamed up with Tom Speitel, ThanTruc Nguyen, and Byron Inouye in the learning technology section to produce the Values for a Democratic Society DVD-ROM for use in character education classes in Hawai'i public schools. Initiated by the Go For Broke Educational Foundation, the project also involved the University of Hawai'i Colleges of Arts and Sciences, the Hawaii Department of Education, and the Nisei Veterans Endowed Forum Series.
The DVD-ROM is a resource that promises to keep on developing and giving. Part I contains 28 short videos, each focused on an individual in the local community who has demonstrated a commitment to democratic values. Part II features sample lessons showing the videos being put to use in the classroom. Filmed with the assistance of the class of 2005 at ELS, the lessons show students watching the character profiles, creating their own stories of people who have contributed to democracy, and becoming the story themselves by engaging in a service-learning project.
The third part of the resource is an interactive DVD-ROM component through which teachers can add student products and comments. A comprehensive database underlies all parts of the DVD-ROM so students and instructors can access its contents in a variety of ways. Kealakehe High School on the Big Island is currently pilot-testing the program. It is also creating its own videos as part of the project and as part of its own civic education program.