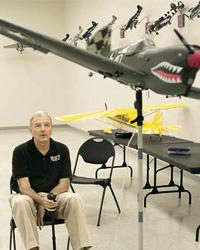 In the latest stage in an ongoing process, Neil Scott and his team expanded their Makery project into three charter schools on Hawai'i Island where students and teachers have begun to work in a Makery Cloud.
The Makery concept grew out of a previous National Science Foundation-funded project called the Invention Factory, which found, among other things, that the lack of hands-on and interactive activities within the current curriculum severely hindered students' interest in STEM careers. As a way of addressing this need, the team created the Classroom Makery to provide students and teachers with the resources to design, set up, program, and use computer numerically controlled (CNC) machines to create practical solutions for real problems.
The next step was to apply the concept of cloud computing to allow schools to share expertise and equipment. Students and teachers at one school get experience with using a CNC machine at another school by controlling it over the Internet. A proof-of-concept grant from the NSF this year allowed them to work with three Hawai'i Island charter schools—the Hawai'i Academy of Arts and Sciences in Pāhoa, Connections Public Charter School in Hilo, and West Hawai'i Explorations Academy in Kailua-Kona—and to partner with the UHM College of Tropical Agricultural and Human Resources to run the program in a community setting in Kona.
The project uses a "just-in-time-learning" approach. As students discover a need, the resources are there for them to learn what they need to know to meet that need. The project is based on partnerships rather than mentorships, working with teachers as they use the machines in order to build their confidence and skill levels. At the same time, the project staff is learning from teachers how to better present the process in future teacher sessions. Along those same lines, the team is preparing this group of schools to be a resource for when they bring more schools on board.
"In the Invention Factory we worked directly with students," says Scott. "Now we are enveloping the Invention Factory curriculum into the Makery project as a resource for teachers."