Frank Pottenger, of the College of Education Curriculum Research & Development Group (CRDG), was presented with the Arthur R. King Jr. Award for Curriculum Innovation at the Pacific Circle Consortium Conference (PCC) May 5, 2010 in Ashland Oregon. He was selected for his significant contributions to elementary and secondary programs throughout the diverse Asia-Pacific region. Having been both a student and colleague of the late Arthur King, Pottenger is one of the cofounders of the PCC.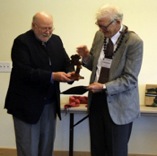 Don Young, Director of CRDG, said, "It is quite fitting that Frank Pottenger is the first recipient of this award. I have to believe that Dr. King is up there smiling and saying, 'Well done Frank! I couldn't have chosen a more worthy recipient if I'd been there to do so myself.' Art King would be very proud to have this award in his name and its first recipient be Frank Pottenger."
King, the visionary founder and long-time director of CRDG, transformed the University of Hawai'i Laboratory School into the center for curriculum development it is today. He led the way for cutting edge research, curricula, and professional development programs that have impacted generations of educators in Hawai'i and around the world.
Pottenger's work in curriculum innovation has improved teaching practice in schools across the region. Over the course of his career, he has created programs and provided professional development for teachers in health and science throughout Micronesia; co-designed PCC's The Ocean Project; and engaged in science curriculum collaboration and experimentation with colleagues in Japan, Korea, Australia, and New Zealand. More recently, Pottenger worked on cross-national civic education curriculum development and teacher preparation with colleagues in eastern Russia.
"Given the breadth and scope of Frank's work, I can't recall a colleague, nationally or internationally in the curriculum field, who has impacted as many nations and individuals as he has," University of Minnesota Emeritus Professor John Cogan wrote in his nomination letter. "He is an exemplar to us all."