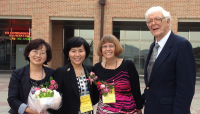 Frank Pottenger and Carol Ann Brennan, of the Curriculum Research & Development Group (CRDG) in the UH Manoa College of Education, were invited to be keynote speakers at the International Seminar for the 65th Anniversary of Dankook University in Seoul, Korea in June. Sponsored by three Dankook University education institutes-the Institute for Education of School Subjects in the College of Education, the Science Education Research Institute, and the Special Education Research Institute-the seminar focused on the theory and practice of STEAM (Science, Technology, Engineering, Arts, and Mathematics) integrated education. STEAM education is a core focus at the elementary, middle, and high school levels in Korea.
Pottenger's keynote, Inquiry: A Mechanism for an Articulated Curriculum, addressed his research into inquiry as an operation of the mind. He discussed how we construct knowledge through five phases of inquiry and the different modes of inquiry that come into play at different developmental phases in the human life cycle. He further described how this knowledge can be used to produce a curriculum that allows students to build communities of knowledge.
Brennan's presentation described her work on applying the theories of inquiry from Pottenger's research. In Evidence of Inquiry in Early Childhood Education, she described her research on inquiry conducted over the past several years with the UH Manoa Children's Center. Audience members participated in activities that exemplified modes of inquiry used by young children, and they viewed and discussed several videos that illustrated how young learners engage in inquiry.
Pottenger had worked previously with Dankook Professor of Education Dr. Yeon-A Son, one of the primary organizers of the conference, when she spent two years at CRDG in a post-doctoral research position in science education. Son came to CRDG in 1998 having written her dissertation on the Foundational Approaches in Science Teaching (FAST) project, a middle school science curriculum developed by Pottenger and others at CRDG. Her work at CRDG contributed toward two paper submissions to the Pacific Circle Consortium, which were published in the organization's Pacific-Asian Education journal.