College of Education
Christine Sorensen, Dean
Curriculum Research & Development Group
Donald B. Young, Director
Kathleen F. Berg, Associate Director
Helen Au, Assistant Director,
Marketing and Publication Services
University Laboratory School
Keoni Jeremiah, Principal
Peter Estomago, Vice-Principal
Tracy Teixeira, Dean of Students
FRANK POTTENGER Awarded the Inaugural Arthur R. King Award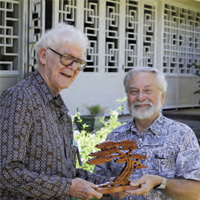 The Pacific Circle Consortium (PCC) created the Arthur R. King Award for Curriculum Innovation in 2010 and recognized Frank Pottenger as its rst recipient. King was the visionary founder and long-time director of CRDG and a co-founder of the PCC, which is dedicated to international cooperation among educational research institutions in the Pacic region.
Pottenger's work in curriculum innovation has improved teaching practice in schools across the region. He has created programs and provided professional development throughout Micronesia; codesigned PCC's The Ocean Project; and engaged in science curriculum collaboration with colleagues in Japan, Korea, Australia, and New Zealand. More recently, he worked on cross-national civic education curriculum with colleagues in eastern Russia. "Given the breadth and scope of Frank's work, I can't recall a colleague, nationally or internationally in the curriculum eld, who has impacted as many nations and individuals as he has," University of Minnesota Emeritus Professor John Cogan wrote in his nomination letter.
THANH TRUC NGUYEN is Honored as an Emerging Leader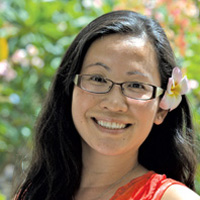 Thanh Truc T. Nguyen was selected for her outstanding professional accomplishments as one of Phi Delta Kappa (PDK) International's 2010–11 Class of Emerging Leaders.
PDK International is one of the largest global education associations. Their Emerging Leaders program recognizes top educators under age 40 who exemplify their tenets of leadership, research, and service.
In addition to authoring and teaching science and computer literacy courses, Nguyen has developed electronic enhancements for existing curricula; overseen the development of science, economics, and computer distance-learning courses; and developed evaluation and assessment modules. She is currently the principal investigator of a major grant from the US Department of Justice to study multimedia juvenile victimization. In addition, she is a member of several professional associations, president of the Hawai'i Educational Research Association, and a member the University of Hawai'i at Manoa faculty senate.
"As an education professional, what drives me is the desire to equip all learners with the knowledge to understand and accept their own digital citizenship," Nguyen said. "I rmly believe this is a key component of enabling our students to become global." Nguyen expressed her gratitude to PDK Hawai'i and CRDG for nurturing her intense passion for education research.
Staff
Afaga, Lorna
Program Research and Evaluation
BA 1977, MPH 1981, Hawai'i
Asato, Darrell
Marketing and Publication Services
BFA 1979, Hawai'i
Au, Helen
Marketing and Publication Services
BBA 1993, MEd 2006, Hawai'i
Ayala, Peter
Learning Technology (Graduate Assistant)
AA 1984, BA 1985, University of District
Columbia; MEd, 2008 Marygrove College
Berg, Kathleen F.
Administration
BEd 1973, PD 1973, MEd 1980, PhD 1992, Hawai'i
Birkett, Frederick
Administration
BA 1977, Fordham; MEd 1995 Harvard
Brandon, Paul
Program Research and Evaluation
BS 1970, Portland State; MEd 1978, PhD
1983, Hawai'i
Brennan, Carol
Science, Early Childhood Education
BA 1965, Catholic University of America;
MS 1984, Nebraska;
EdD 1996, Hawai'i
Cagaoan, Emma
Administration
AS 1980, Kapi'olani Community College
Chester, Allison
Mathematics (Graduate Assistant)
BA 2008, Sacred Heart University
Degnan, Katherine
Science (Graduate Assistant)
BS 2006, Roger Williams University
DeWoody, Heather
Learning Technology (Graduate Assistant)
BA 2006, Hawai'i
Duncan, Kanesa
Science
BS 1999, Cal Poly; MS 2004, PhD 2005,
PBSCE 2008, Hawai'i
Fujii, Alycia
Marketing and Publication Services
BA 1996, Hawai'i
Fukata, Laverne
CRDG Administration
BA 1972, Hawai'i
Gilbert, Barbara
Mathematics
BA 1996, Arizona State; MEd 2002,
Washington
Gilbert, Michael
Mathematics
BA 1991, Arizona State; MA 1999, PhD
2003, Washington
Gill, Kevin
Learning Technology
Harpstrite, James
Social Studies
BA 1963, Colorado; MA 1967, Hawai'i;
PhD 1971, Michigan State
Harrison, George
Program Research and Evaluation
(Graduate Assistant)
BA 1994, University of California Santa
Cruz; MA 2002, Hawai'i
Hashimoto, Valerie
Science
BS 1993, Hawai'i Pacific; MAEd 2003, Phoenix
Hayden, Marcus
Administration
BAS 2001, MBA 2007, Hawai'i
Higa, Terry Ann
Program Research and Evaluation
BEd 1977, MEd 1978, PD 1984, MEd 1994,
PhD 2005, Hawai'i
Inouye, Byron
Learning Technology
BFA 1993, Hawai'i
Jumawan, Francisco
Science (Graduate Assistant)
AS 1991, Electronics Institute; BS 2006, Hawai'i
Kaupp, Lauren
Science
BS 2003, University of Maryland-Baltimore
County; MS 2005, Hawai'i
Kido, Lillian
Program Research and Evaluation
BA 1971, Hawai'i
Klemm, E. Barbara
Science
BA 1964, Ohio Wesleyan; M.Ed. 1972,
University of Hawai'i; Ed.D. 1982,
University of Hawai'i
Krohn-Ching, Val
Visual Arts
BS 1968, MA 1969, Eastern Michigan; MFA 1974, Hawai'i
La, Thuy
Mathematics
BA 1997, Hanoi University of Pedagogy No. 2; MA 2005, Hawai'i
Lai, Morris
Program Research and Evaluation
BS 1965, Stanford; MA 1967, Hawai'i; PhD
1972, UC Berkeley
Lawton, Brian
Program Research and Evaluation
BA 2001, Nevada; MEd 2005, Hawai'i
Lee, Aaron
Marketing and Publication Services
BFA 1999, Hawai'i
Leong, Jaret
Marketing and Publication Services
Liebengood, Fawn
Learning Technology
BA 2010, Hawai'i
Lindberg, Mark
Marketing and Publication Services
BMus 2008, Hawai'i
Liuzzo, Kristen
Mathematics
Lorenzana, Ricardo
Summer Programs
BA 2000, UC Irvine; MBA 2004, Hawai'i
Nakama, Robert
Information Technology
Certificate 2006, BBA 2006, Hawai'i
Nakamura, Aric
Program Research and Evaluation
BA 2004, Hawai'i
Narimasu, Bert
Marketing and Publication Services
BA 1976, MFA 1993, Hawai'i
Nguyen, Thanh Truc
Learning Technology
BA 1996, MEd 2000, Hawai'i; EdD 2007,
Southern California
Okihara, Derick
Information Technology
BA 2006, Hawai'i
Olson, Judith
Mathematics
BS 1968, Valley City State; MST 1981,
Wyoming; EdD 1985, Oklahoma State
Olson, Melfried
Mathematics
BS 1968, Valley City State; MS 1972,
Arkansas; EdD 1975, Oklahoma State
Oshiro, Elliot
Evaluation
BA 1981, PD 1987, Hawai'i
Philippoff , Joanna
Teaching Aquatic Science Inquiry
BA 2002, University of Delaware
Pottenger, Francis
Science
BS 1951, Otterbein; MEd 1957, Xavier; MS
1964, New Mexico Highlands; PhD 1969,
Claremont Graduate School
Pottenger, Larma
Editorial
BA 1950, Otterbein
Pottenger, Marcus
Summer Programs
Ramos, Rosemarie
Clerical
AS 1976, St. Ferdinand
Redmond, James
Science
BA 1968, NY State Teacher Certifi cate,
SUNY at Buffalo; MAEd 1979, Pepperdine;
Certificate 1990, Hawai'i
Romero, Gary
Information Technology
BS 1986, DeVry
Sagaysay, Lolito
Program Research and Evaluation
BBA 1982, Hawai'i
Saka, Susan
Program Research and Evaluation
BS 1980, BBA 1980, MEd 1994, Hawai'i
Scarlett, Th omas
Science
BEd 1973, MEd 1980, MEd 1997, PhD
2008, Hawai'i
Schlosser, James
Standard Streamlining Project
BA 1970, California State; MA 1994,
Hawai'i; PhD 1998, BYU Provo
Scott, Neil
Learning Technology
BE 1970, DSc 2006, Canterbury University
Seraphin, Kanesa
Science
BS 1999, Cal Poly State; MS 2004, PhD
2005, PBSCE 2008, Hawai'i
Shibata, Raemi
Learning Technology
BS 2006, Portland State
Shimabukuro, Erin
Administration
BEd 2001, Hawai'i
Shishido, Wayne
Marketing and Publication Services
BFA 1972, Hawai'i
Shon, James
Standard Streamline Project
BA 1969, Syracuse; PhD 2001, Hawai'i
Slovin, Hannah
Mathematics
BA 1966, Pennsylvania; MEd 1970, Temple;
EdD 1996, Hawai'i
Southworth, John H.
Science
BA 1961, Pomona; MS 1971, Hawai'i
Subedi, Lilette
Program Research and Evaluation
BFA 1977, BA 1977, MA 1989, Hawai'i
Towata, Carolyn
English
BEd 1967, 5-yr Diploma 1968, MEd 1968, Hawai'i
Vallin, Lisa Michaela
Program Research and Evaluation
(Graduate Assistant)
BA 2006, MA 2008, San Francisco State
Venenciano, Linda
Mathematics
BA 1993, MAT 1994, Pacifi c
Ward, Lori
Editorial
BA 1983, Hawai'i; MNM 2002, Regis
Watts, Margit
Manoa Partnerships
BA 1970, Michigan; MSW 1974, PhD 1989, Hawai'i
Yap, Mark
Information Technology
BA 2001, Hawai'i
York, Susan E.
Program Research and Evaluation
BA 1992, MA 1994, MEd 2001, PBCSE
2007, Hawai'i
Young, Donald B., Jr.
Administration
BS 1968, MS 1969, SUNY; EdD 1986, Hawai'i
Zenigami, Fay
Mathematics
BEd 1974, PD 1975, MEd 1975, Hawai'i