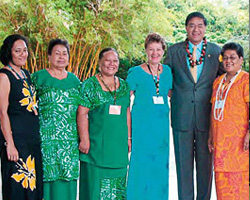 Throughout its history, CRDG has routinely engaged collaboratively with members of the education community here in Hawai'i, throughout the nation, and around the world. While continuing to engage with schools throughout Hawai'i and the nation in a variety of ways and across a broad spectrum of subject areas, CRDG renewed two long-term international collaborations and began a new partnership in 2007.
The Pacific Circle Consortium (PCC) was established in 1977 with the goal of fostering international cooperation among educational research and development institutions in the Pacific region. As a founding member, CRDG was active in the consortium's early work, the collaborative production of Pacific-themed curriculum materials. In later years, the focus has shifted to broader issues of policy development and educational research.
CRDG hosted the PCC's thirty-first annual conference this year on June 25–29 at the Hawai'i Imin Conference Center on the UH Mānoa campus where participants from México, New Zealand, Australia, Colombia, China, South Korea, Latvia, Taiwan, Fiji, Samoa, Japan, Russia, Great Britain, and the United States examined the theme, "Education in a Pacific Context: Education Outcomes for the Twenty-first Century."
A second long-time collaboration continued in 2007 with an invitation to the director of CRDG to be the keynote speaker at a conference in Russia. This invitation came from long-time collaborator Dr. Alexander Uvarov from the Russian Ministry of Education and the National Training Foundation in Moscow. CRDG's partnership with Dr. Uvarov and other Russian educators spans fifteen years and includes a range of projects in science, mathematics, and civics.
The staff of CRDG's Pihana Nā Mamo project began a new partnership when they hosted Colombian Fullbright scholar Zayda Sierra who was in Hawai'i to study Hawaiian immersion education programs and to look for cross-cultural comparisons between ongoing efforts in indigenous education in Hawai'i and Colombia.