Our Mission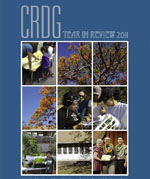 The Curriculum Research & Development Group (CRDG), with its associated Laboratory School, is an organized research unit in the College of Education at the University of Hawai'i at Ma_noa that contributes to the body of professional knowledge and practice in teaching and learning, curriculum development, program dissemination and implementation, evaluation and assessment, and school improvement. CRDG conducts research and creates, evaluates, disseminates, and supports educational programs that serve students, teachers, parents, and other educators in grades pre-K–20.
Curriculum Research & Development Group
CRDG, a learner-centered community of educators—recognized locally, nationally, and globally for quality research, design, and curricula—that inspires dynamic teaching and learning.
While CRDG and the University Laboratory School's roots go back more than a hundred years, the research partnership in its current form dates to 1966 when CRDG's founding director, Arthur R. King, Jr., was given the charge of creating a center for curriculum research and development. This was the beginning of the research partnership that has allowed CRDG and ULS to influence change in curriculum, instruction, assessment, and school systems by creating programs and practices that result in improved student learning. CRDG assembles teams of academic scholars, teachers, design specialists, evaluators, and others to create instructional programs and professional development services that improve learning, teaching, and assessment. The collaborative nature of the work means that CRDG faculty are continually reaching out and forming new partnerships with researchers both in education and in the various disciplines, with individual schools as well as departments of education in Hawai'i and elsewhere, with community organizations and educational service providers, and with public and private funding agencies.
CRDG's work is focused on these five interrelated fields of educational endeavor, each of which addresses a central issue facing education in Hawai'i, on the US mainland, in American overseas schools, and in other nations.
Science, Technology, Engineering, and Mathematics (STEM) Education
Hawai'i, Asia, and the Pacific
Serving Diverse Learners
Educational Technology Development
Designing Educational Systems
CRDG concerns itself with the P–20 education continuum, including those who receive and those who deliver educational programs and services. While CRDG faculty are concerned with and address current needs, their primary focus is on creating innovations that by their very nature are intended to go beyond current practice to investigating and creating quality programs and materials for the future.