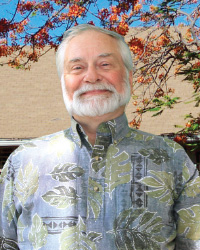 Aloha from the Curriculum Research & Development Group  (CRDG) and the University Laboratory School (ULS). We are pleased to present the 2011 Year in Review, which provides a glimpse of CRDG's rich and varied work. We are especially pleased to highlight the many awards and recognitions received by our outstanding faculty and staff this year for the excellent work they are doing.
No one will be surprised to learn that the past few years have been challenging and prompted a great deal of introspection. Along with other organizations, institutions, and communities, we strived to work through the difficult times and to come out of those experiences stronger and better able to meet our commitment to improving education. It was through that introspective process that we reaffirmed our roots and consciously returned to our founding principles as a guideline for our current and future work—work that is grounded in both the practical realities of a real school environment and the rigorous environment of a research university. This year we are extremely pleased to present a story of dedication as we continue to work with our community—locally, nationally, and internationally—to affect positive change in education. In this report, you will read about major research projects, the development of new curricula and professional development programs, and ways our programs are supporting the transition to a digital world. You will also read about awards for leadership, scholarship, innovation, transformation, and lifetime achievement that our faculty and staff received this year in recognition of that work.
In the words of Aristotle, "We are what we repeatedly do. Excellence, therefore, is not an act, but a habit." CRDG, in collaboration with the University Laboratory School (ULS) and with our many partners within the education community and the university, is proud to be continuing its tradition of excellence in the work that we do.
Donald B. Young