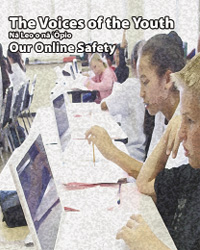 CRDG's ongoing curriculum development work in the area of computer literacy, informed by the data from the Multimedia Juvenile Victimization project, is focusing on the concept of digital citizenship as we learn how students use the Internet and how they interact with the global community they find there.
CRDG's Thanh Truc Nguyen has been working since 2004 to develop curriculum for computer literacy and Internet safety. Her research in the classroom with University Laboratory School students has focused on computer literacy and ethics, emphasizing issues of personal behavior and reflection on strategies for making wise choices online. The conceptual framework for the curriculum involves the emerging roles and responsibilities of digital citizenship, in which students consider their place in the virtual world and how they contribute positively to that world. This year the focus shifted to global digital citizenship, looking at how questions of culture and society come into play when students knowingly and unknowingly begin communicating with someone in another country. Nguyen is increasingly aware of how these interactions in the virtual world become teaching moments when students do not understand the culture of the person with whom they are communicating. In particular, there is an emerging need to pay more attention to the rights of freedom of speech and rights of possession enjoyed in the United States, and to helping our students understand that those freedoms and rights do not exist in all nations. Nguyen is seeing the need to encourage discussion among students about respect for different cultures online and to help them understand that things may be done very differently in different parts of the world.
In April, Nguyen's presentation Multimedia Juvenile Victimization: Helping Teachers Understand Youth Behavior was awarded the Outstanding Poster Presentation at the Society for Information Technology in Teacher Education's (SITE) 2010 conference for its potential impact in teacher education. She was also recognized by Phi Delta Kappa with an Emerging Leader Award (see more details on p. 40) for her leadership, research and curriculum development work.