The year 2010 was a year of great change in our state, in our country, and throughout the world. Along with so many others, we spent much of the year in a process of introspection and analysis, and eventually in a reaffirmation of our guiding principles and a return to our roots. For CRDG, that meant a refocusing on systems as a guiding principle as we forge ahead with the exciting work of contributing to positive change in the field of education.
While we work in a broad range of disciplines and do a number of  different kinds of work, the common thread that runs throughout all of our work is our belief in systems as an organizing structure for educational improvement. As you read about our work in this report, you will see that none of the projects deal with isolated elements of the school environment. Instead, we look at learning communities,
addressing all of the elements that make up those communities, in putting together systems of curriculum, professional development, assessment, and community involvement. CRDG concerns itself with the P–20 continuum of education, including those who receive and those who deliver educational programs and services. While CRDG faculty are concerned with and address current needs, their primary focus is on creating innovations that by their very nature are intended to go beyond current practice to investigating and creating quality programs and materials for the future.
CRDG's work is focused on five interrelated fields of educational endeavor. However, just as the elements of a learning system cannot be disconnected, these aspects of education cannot be taken in isolation. You will find stories placed into one or another of these categories in this report, but in reality, projects typically span two or more of the focus areas. You will also see descriptions of the larger system of which we are a part. Our strong collaborations with the Hawai'i Department of Education, our unique partnership with the University Laboratory School, and our many collaborations and partnerships with other institutions ground our work in the practical realities of a real school environment and allow the broader education community to reap the benefits of research in a timely and direct manner.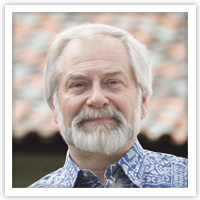 Dr. Donald B. Young
Director, CRDG
Professor of Education