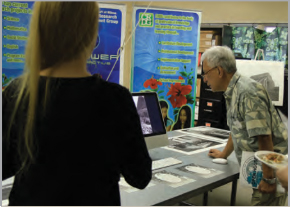 With the theme of "Buy UH," CRDG's Marketing and Publications Services (MaPS) held an open house for old friends and new on March 23, 2012.
Originally an in-house print shop for CRDG publications, MaPS has grown to be a full-service one-stop-shop for graphic design, web design, and printing and finishing services for the University of Hawai'i community as well as non-profit organizations in the community. As part of UH, MaPS offers many advantages to clients within the university family, including their convenient location on campus; their understanding of UH procedures and protocols; and their friendly, flexible, and professional service. An added bonus is that when UH departments come to MaPS for their web or print needs, the money stays within UH.
The open house highlighted MaPS's shift from offset printing to digital printing and its web development services. Guests got to go behind the scenes to see the two newest machines: the Xerox Color 550 and the Nuvera 120EA, the primary black/white printing machine. A Xerox paper specialist was on hand to do mini-presentations of their various paper options, including customizable papers for folders and specialized marketing projects.