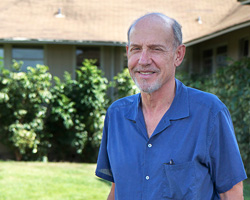 College of Education Curriculum Research & Development Group (CRDG) faculty member, Paul R. Brandon, has been appointed to serve as Editor-in-Chief of the American Evaluation Association's (AEA) topical journal, New Directions for Evaluation (NDE). Brandon, a professor of education, will serve a three-year term beginning in January 2013.
When Brandon's term begins, NDE will have had 136 issues published over 35 years under the direction of 11 distinguished editors. "Building on this foundation strikes me as a challenge and an opportunity," Brandon noted. "One challenge will be to maintain NDE's high standards while mastering the nuances of serving as editor-in-chief overseeing issue editors. The opportunity will be to broaden the list of issue topics in light of AEA's emphasis on diversity while keeping a balance among topics addressing evaluation theory, methods, practice, and the profession. I am honored and humbled by being named NDE Editor-in-Chief and hope to meet the challenges and take advantage of the opportunities fully!"
Brandon's extensive work experience in evaluation includes:  a non-profit research and evaluation organization; a city employment testing organization; a private K–12 school serving native Hawaiians; and UH Manoa where he has served since 1989. Since then, he has often taken on the role of principal investigator (PI) or co-PI for university or agency projects funded by local, state, and national entities. Brandon also serves as a member of the graduate faculty of the college's educational psychology department where he directs thesis and dissertation committees and teaches occasional evaluation classes.
He is co-editor of the 2008 book Fundamental Issues in Evaluation as well as the American Journal of Evaluation's Exemplars section. He has won two best evaluation awards from Division H of the American Educational Research Association (AERA) and, in April 2011, he was given AERA's Research on Evaluation Special Interest Group's first annual Distinguished Scholar Award.