A new initiative in the school this year, spearheaded by science teacher Miki Tomita, is Project Pono, an environmental stewardship and service-learning elective course that provides opportunities for students to learn about and engage in practices that promote environmental awareness and cultural and environmental sustainability, and to facilitate students teaching themselves and their peers about these topics.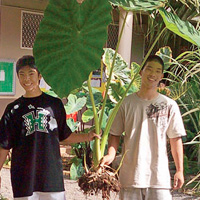 Project Pono students begin by identifying their own environmental interests, then go on to create and participate in educational outreach and community events that are grounded in Hawaiian values and that foster environmental and cultural sustainability.
The fall semester saw the students carry out these projects:
The Native Garden at ULS, meant to serve as an outdoor classroom and resource for Native Hawaiian agriculture, medicinal practices, and hula, includes endemic, indigenous, and canoe (early Hawaiian introduction) plants.
Students participated in lo'i kalo (taro patch) and loko i'a (fishpond) restoration and cultivation at important historic and cultural sites including He'eia and Waikalua fishponds, Ulupō heiau, and Ahupua'a 'O Kahana.
The Ma Ka 'Āina Ka 'Ike project, focused on organizing beach, trail, and park cleanups along the scenic Ka Iwi shoreline, was founded with community partners the Department of Land and Natural Resources, City & County of Honolulu's Parks and Recreation Department, Matson's Ka Ipu 'Āina program, and State Representative Gene Ward. There are plans to eventually expand this entirely student-developed, student-run, and student-perpetuated program into an educational and community service outreach for other schools and student groups.
Work days were planned and carried out at the Hawaiian Humane Society and Honolulu Zoo.
A partnership was formed with Blue Planet Foundation to carry out compact fluorescent lamp (CFL) exchange drives where students helped spread Blue Planet's message of low carbon emissions and energy efficiency through exchanging incandescent lightbulbs for CFLs. Drives were held during school Hi-5 recycling drives and the week leading up to the International Day of Climate Awareness.
In addition to carrying out a wide range of projects, students found time to apply for grants for future projects. Two groups of students received Be the Change grants from the Youth Philanthropy Board for projects that will take place next year.