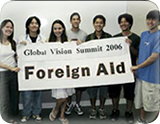 While the Laboratory School is a true laboratory for CRDG researchers, for students, it is both laboratory and school. ULS students are well aware of their role in the research process and participate actively in research functions. But this is also where they go to school: it is the place they meet friends, form clubs, play on school athletic teams, and do all the other things that kids do at school. Recognizing this need to address all aspects of school life, ULS teacher/researchers are active in a number of non-research school functions, as illustrated by these examples from our Social Studies Section.
The Social Studies Section's ongoing collaboration with the Pacific and Asian Affairs Council (PAAC) allowed Laboratory School students to take part in a number of activities with students from high schools throughout the state. In the World Quest competition, over forty teams competed in the annual event that tests knowledge of current events, geography, and world leaders. A Laboratory School team placed third in the very stiff competition in 2006.
ULS students also took part in two PAAC-sponsored day-long conferences for Hawai'i high school students. The spring conference focused on the role that economic aid plays in U.S. foreign policy. Students studied and debated different rationale for allocating foreign aid and proposed changes that they felt would make U.S. foreign aid more effective. The fall conference looked at the core issues that underlie the ongoing unrest in the Middle East. Each school delegation represented a nation or group involved in the Arab-Israeli conflict.
Laboraoatory School students took on the role of the PLO/Palestinian Authority and attempted to reach a comprehensive peace settlement through extensive negotiations.
The PAAC Summer Study Tour, sponsored by the Freeman Foundation, allows twenty high school students to travel to another county where they learn about its history and culture. Four Laboratory School students were chosen for the 2006 study tour to Japan where they spent two weeks touring the country, meeting teenagers and their families, and learning firsthand about current events in that part of the world.
Social Studies teachers were also active with students in coaching the Mock Trial team, a tournament-style competition that allows students to argue a case in a real courtroom before a practicing attorney, and advising the Community Service Club. This year students involved with the club organized game days for children at Shriner's Hospital, assisted a wheel-chair bowling league on a monthly basis, organized trips to a Ronald McDonald house, and held a coin drive for victims of the earthquake in Pakistan.