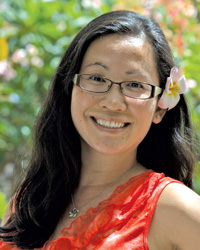 Thanh Truc T. Nguyen of the College of Education Curriculum Research & Development Group (CRDG) at the University of Hawai'i at Manoa is one of Phi Delta Kappa (PDK) International's 2010–11 Class of Emerging Leaders. Nguyen was among 20 honorees selected for her outstanding professional accomplishments. PDK International is one of the largest global education associations with thousands of members dedicated to improving education. PDK's Emerging Leaders program recognizes top educators under age 40 who exemplify their tenets of leadership, research, and service.
In addition to authoring and teaching science and computer literacy courses, Nguyen has developed instructional strategies that include electronic enhancements for existing science curricula; overseen the development of science, economics, and computer distance-learning courses; created websites; developed evaluation and assessment modules; and coordinated conferences and professional development workshops related to her expertise.
"As an education professional, what drives me is the desire to equip all learners with the knowledge to understand and accept their own digital citizenship," Nguyen said. "I firmly believe this is a key component of enabling our students to become global." Nguyen expressed her gratitude to PDK Hawai'i and CRDG for nurturing her intense passion for education research.
Associate Director of CRDG Kathleen Berg has worked with Nguyen in numerous roles, including as Chair of the College of Education Faculty Senate, the Executive Director of the Hawai'i Educational Research Association, and the Treasurer of the Pacific Circle Consortium. "Of the many young educators with whom I work, Dr. Nguyen most fully epitomizes PDK's tenets," she stated. In addition to Nguyen's service, research, and leadership within the profession of education, Berg emphasized her technological skills and talents.
Richard C. Seder, education policy consultant and adjunct faculty member at the University of Southern California, said, "Dr. Nguyen never hesitates to offer assistance to her colleagues in CRDG as well as to others at the University of Hawai'i and institutions of higher education across the world. Her abilities are unbounded and her capacity to impact education and schooling will continue to grow."
"As Administrator of the K–12 University Laboratory School for 31 years at the University of Hawai'i, I have observed many bright young scholars, and Truc is in the top 1% of young leaders in the field of education," added COE Professor Emeritus Loretta Krause.
Nguyen will be honored at the 2011 PDK International Conference on Innovations in Teaching and Learning and have the opportunity to be published by PDK, apply for grants, and participate in PDK initiatives. She is a member of the PDK University of Hawai'i chapter, International Society for Technology in Education, Society for Technology and Teacher Education, ASCD, National Science Teachers Association, Pacific Circle Consortium, American Educational Research Association, and [president] Hawai'i Educational Research Association.