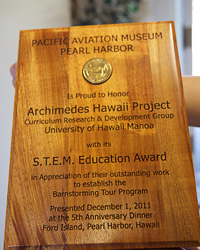 December 7, 2011 | Contact:  Jennifer Parks, 956-0416 |
Neil Scott of the College of Education Curriculum Research & Development Group (CRDG) was presented with a STEM Education Award by the Pacific Aviation Museum (PAM) on December 1, 2011. Held at the museum's 5th Anniversary Dinner & Hangar Dance, the event commemorated the 70th anniversary of Pearl Harbor. The STEM award is the first of what will be an annual award.
As part of his work with the Archimedes Hawaiʻi Project, Scott and his team developed flight simulators and a portable wind tunnel to teach sixth graders the principles of flight. Over the next few years, the equipment will be used in schools for "barnstorming" experiments.
In collaboration with PAM and BAE Systems, who awarded Scott two grants during the design and construction process, the goal of the program is to reach all of Hawaiʻi's sixth graders.
"In this age of simulating everything on a computer screen, it was very gratifying to receive acknowledgement for a system that uses real physical apparatus and real physical movements to provide more lifelike experiences," Scott said.
Scott acknowledged fellow CRDG colleagues, Kathy Berg for serving as a liaison with PAM and BAE, Raemi Tokuhama for providing software support, and Kevin Gill for providing administrative support.