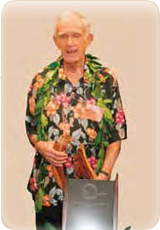 The foundational theory upon which CRDG is built comes from the educational vision of Arthur R. King, Jr. and John A. Brownell and is articulated in their 1966 book The Curriculum and the Disciplines of Knowledge: A Theory of Curriculum Practice. The heart of the theory lies in its definition of intellectual activity, held to be the basis for liberal and general education. Intellectual life is a set of semi-independent disciplines—communities of individuals who share a common dialogue and have their own domain, mode of inquiry, specialized language and symbols, heritage of literature and artifacts, and traditions. The theory was put into practice when King was given the task of reorganizing and repurposing the University Laboratory School to create a center for curriculum research and development. The result has been curriculum materials and instructional methods that promote the notion of a classroom as a community of learners and that cast the students in the role of authentic practitioners of that discipline. King served as the founding director of CRDG and remained in that role to guide nearly forty years of groundbreaking work.
Following his retirement in 2003, he remained active in the CRDG family, writing a history of the unique experiment that became CRDG and developing a thesis on schools as systems.
In 2007, Dr. King was awarded the Peter Brice Award by the Pacific Circle Consortium for his outstanding contributions to curriculum research and development in the Pacific Region.
His work was also honored in a far more hands-on manner when the CRDG faculty, researchers, and staff returned to the source, reading and discussing the King and Brownell book as the first step in a "Great Conversation" that is serving as both foundation and inspiration for the planning that will guide the next generation of researchers at CRDG.