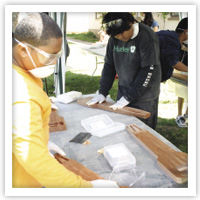 The Makery project has as its primary goal to help students understand that they can make things. The project has its roots in the Invention Factory, a previous project where students learned about the internal workings of things by modifying toys for use by people with disabilities. A central idea of both projects is that if students only ever work with pre-made products, they won't understand how to make things themselves. From the Invention Factory, where the project worked directly with students, principal investigator Neil Scott and his team developed a set of computer numerically controlled (CNC) machines to help students make their ideas a reality by designing and creating products using a set of manufacturing tools they named the Makery. With the current National Science Foundation-funded proof of concept grant, the project team provided professional development sessions for teachers from eight schools on Hawai'i and O'ahu this summer. To get the project started in their schools, teachers built their own Makery machines to take back and use.
At its core, the Makery project is about helping students express their creativity through hands-on projects, both by helping them to envision their ideas and by giving them the skills to create their inventions. The project is a boon to schools immediately in its ability to engage students in realizing their ideas and in giving them the knowledge and confidence to them carry out. But it is also thinking long-term in providing students with a set of core skills for manufacturing as it will be done in the twenty-first century.
Class at the Waikīkī Steel Guitar Festival

One of the Makery's most popular programs over the years has been the design and construction of Hawaiian steel guitars. As more and more students have produced guitars, and as the project has become known for the quality of their guitars, they have become a regular presence at the Maui and Waikīkī Steel Guitar Festivals. The high number of inquiries at this year's festivals has resulted in plans for on-site workshops next year.